Source – Link
Oshan Wedage, Noel Amano, Michelle C. Langley, Katerina Douka, James Blinkhorn, Alison Crowther, Siran Deraniyagala, Nikos Kourampas, Ian Simpson, Nimal Perera, Andrea Picin, Nicole Boivin, Michael Petraglia & Patrick Roberts
Abstract
Defining the distinctive capacities of Homo sapiens relative to other hominins is a major focus for human evolutionary studies. It has been argued that the procurement of small, difficult-to-catch, agile prey is a hallmark of complex behavior unique to our species; however, most research in this regard has been limited to the last 20,000 years in Europe and the Levant. Here, we present detailed faunal assemblage and taphonomic data from Fa-Hien Lena Cave in Sri Lanka that demonstrates specialized, sophisticated hunting of semi-arboreal and arboreal monkey and squirrel populations from ca. 45,000 years ago, in a tropical rainforest environment. Facilitated by complex osseous and microlithic technologies, we argue these data highlight that the early capture of small, elusive mammals was part of the plastic behavior of Homo sapiens that allowed it to rapidly colonize a series of extreme environments that were apparently untouched by its hominin relatives.
Introduction
There is growing evidence that Homo sapiens had a unique capacity to adapt to a diversity of extreme environments, both within and beyond Africa, when compared with other members of the genus Homo1. Nevertheless, studies of migrations of our species into Europe, the Middle East, and Asia have often focused on its increased efficiency in hunting, butchering, and consuming medium-to-large game in open "savanna" settings2,3. Alternatively, coastal settings have been highlighted as providing homogeneous, protein-rich resources that stimulated human evolution as well as migration beyond Africa from the Late Pleistocene4,5. Focus on these environments has meant that small mammals have been neglected in discussions of the human colonization of new environments, despite the fact that a specialization in their procurement is often considered a feature of technological and behavioral "complexity" or "modernity" unique to our species6,7. Concentration on Europe and West Asia in this regard has linked increased usage and capture of agile, but abundant, small mammals to human population growth or climatically driven crises associated with the end of the last glacial period6. Nevertheless, the onset and behavioral context of small mammal hunting in other parts of the world, and beyond temperate environments, has remained poorly studied.
From the Late Pleistocene onwards, our species inhabited a number of diverse environments as it dispersed beyond Africa. One of these environments, tropical rainforests, has been considered a barrier to human dispersal8,9. This was mainly due to the fact that mammalian megafauna (> 44 kg10), thought to have been attractive to Late Pleistocene humans, and even driven to extinction as a result of our species' expansion11,12, are lacking in these settings8. Nevertheless, in Sri Lanka, Southeast Asia, and Melanesia, as well as other parts of the world, the earliest evidence for human occupation is often associated with rainforest environments13,14,15,16. In Sri Lanka, stable isotope evidence has demonstrated that humans relied on rainforest resources for over 30,000 years17, perhaps aided by the complex microlith and bone toolkits found at Late Pleistocene and early Holocene sites in the region15,16,18. However, owing to a lack of detailed faunal analyses, it has remained unknown which foodstuffs sustained human populations during this time, as well as the hunting strategies employed to obtain them.
We apply new chronometric, taphonomic, archaeozoological, and artifactual analyses to the earliest dated archeological site in Sri Lanka, Fa-Hien Lena (Fig. 1), previously dated to 38,000 years ago18,19,20. Fa-Hien Lena documents the earliest fossil appearance of H. sapiens in Sri Lanka, and indeed South Asia, alongside small, quartz microlith technology, and a variety of pointed bone technologies18,19,20. Rainforest mammals, reptiles, molluscs, and plant remains have been identified at the site18,20,21. However, human exploitation of specific resources has yet to be directly demonstrated owing to a lack of systematic taphonomic study. Similarly, the early, enigmatic microlith and bone technologies discovered here and elsewhere in South Asia have undergone limited analysis, and their use and adaptive function have remained obscure19,20,22. The results of our new multidisciplinary analyses document specialized, sophisticated hunting of semi-arboreal and arboreal prey taxa from ca. 45,000 years ago, in the tropical rainforest environments of Sri Lanka.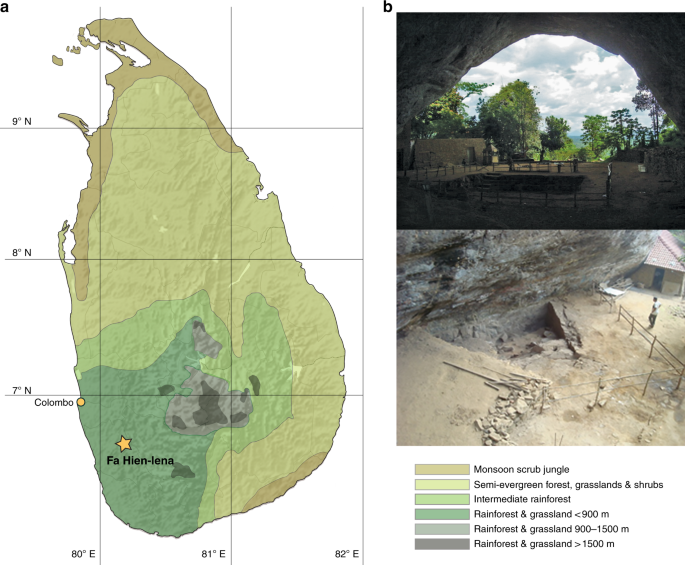 Continue reading Specialized rainforest hunting by Homo sapiens ~45,000 years ago →